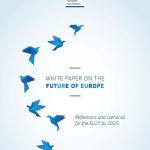 On the day after the latest chapter in the Greek euro crisis, in July 2015, a group of African and European lawyers published an article, on the www.ohada.com website, urging the countries that use the Euro to take inspiration from the success of the OHADA reform and base the single European currency on a unified system of business law, which would be a vector for the economic, tax and social convergence that is essential for the very survival of the Euro (Read the article of 24 July 2015 ).
After the publication of a survey of European business law that was produced by fourteen leading academics and lawyers from the Henri Capitant Association, under the aegis of the Civil Law Initiative (Fondation pour le droit continental), with a preface by former French President Valéry Giscard d'Estaing, a major figure in the movement for European integration, and the distribution of a summary to the highest authorities in the EU and its larger Member States, the European Commission has now observed that there is a need to create a European Business Code (Read the summary and the preface of former French President Valéry Giscard d'Estaing).
This endorsement comes from the White Paper on the future of Europe, a collection of reflections and scenarios for the EU27 in 2025, particularly this sentence which can be found on page 21: "A group of countries works together and agree on a common 'Business Law Code' unifying corporate, commercial and related domains of law, helping businesses of all sizes to easily operate across borders". The White Paper was published by the European commission on 1 March 2017 https://europa.eu/european-union/sites/europaeu/files/whitepaper_en.pdf .
This future European Business Code, which could be described as an OHADA for Europe, is a particularly relevant response to the challenges now facing Europe as a result of Brexit and the incomplete nature of European monetary integration.
A group of leading European lawyers have now begun to produce a draft version of the Code.
We are delighted that, after the success of the OHADA, Africa has been able to show the way, encouraging Europe to follow its example and trigger a continent-wide movement towards the unification of business law, which will be a force for unity, cohesion, shared and increased prosperity, and for peace.